"People who live in glass houses shouldn't throw stones"

Ronnie Kray (Movie: Legend)
This book was kindly provided to my by Netgalley and Mirror Books in exchange for an honest review.
Synopsis: The definitive account of the Krays' world, their criminal activities, and two lives spent running the Firm. Until now books on the Krays have been subjective and incomplete—memoirs by police officers and witnesses, or whitewashing accounts and affectionate recollections by friends and family. This will be the first wholly objective look at how the twins came to power, fell, and, at least in the public eye, rose again. The book will draw together the many often conflicting versions of events—at least five reasons have been offered for the death of George Cornell—and separate fact from fiction. It will include many stories never previously disclosed, such as:
• Charlie Kray's real position with his brothers. In recent years there have been allegations that he was both a serial molester of women and a police informer, both far from the general picture of a hail-fellow-well-met man manipulated by his younger brothers.
• The Krays' bribing and intimidation of witnesses and their use of solicitors and the clergy to set up potential defences against police action.
• Just how many people did they kill, or were killed on their behalf? The book will examine claims that they killed up to 30, including an analysis of their possible involvement in the deaths of lawyer David Jacobs and former world champion boxer Freddie Mills.
---
The entire book was a waterfall of information. There was so much going on, that I barely remember anything from the book. It was all too much. I expected more of a story than someone throwing up every inch of information they have. There was no flow between and in the chapters at all.
I read through the book relatively fast. After some time, I couldn't care about reading every little detail and started skimming the chapters. The amount of people involved with the Kray's were so many, that I couldn't keep them apart anymore.
My first encounter with the Kray brothers was by watching the movie Legend, where Tom Hardy plays both brothers (and did a great job in my opinion). The movie shows that they are identical twins, though different in their minds. Their characters and mental health was what I wanted to read more about. it's interesting to see which ways they both go throughout their lives and how their way of thinking influenced their paths.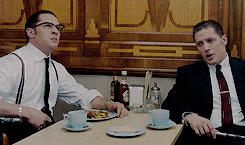 I gave this book 2/5 stars.