"Then the Grinch thought of something he hadn't before! What if Christmas, he thought, doesn't come from a store. What if Christmas…perhaps…means a little bit more!"

Dr. Seuss, How the Grinch Stole Christmas!
I came across this book tag on Adventures of a Bibliophile (original tag by GirlReading). It looked like a fun tag to do around Christmas, so let's go for it!
---
1) A fictional family you would like to spend christmas dinner with?
Looking at my shelves, I was imagining all the Christmasses I could have with all the families sitting there. Then I suddenly knew it. I would have my Christmas dinner with Holmes's family. To make it better, BBC's Sherlock and his family and friends. I think it would be great and definitely amusing.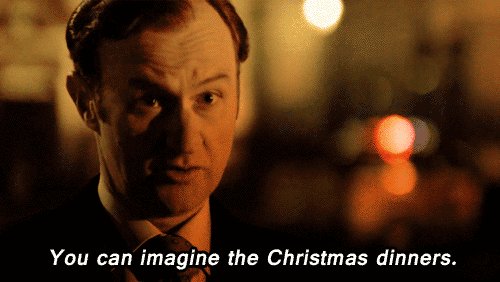 2) A bookish item you would like to receive as a gift?
Items that only people who love the same thing will understand, like certain quotes or figures. A bookish tote is something I would love to have. These tote bags from Storiarts are beautiful.
3) A fictional character you think would make a perfect Christmas elf?
Dobby. He is already an elf and would make a marvelours Christmas elf. Always kind, he can bring Christmas spirit anywhere.
4) Match a book to it's perfect christmas song.
Damn, this question is difficult. I'm going for Mele Kalikimaka (Merry Christmas), performed by Bing Crosby. Christmas where it's warm. The book it fits is Call Me by Your Name by André Aciman. Set in Italy, where it's warm (at least in summer).
5) Bah Humbug. A book or fictional character you've been disappointed in and should be put on the naughty list?
13 Reasons Why by Jay Asher. Nothing against the topic, but I don't think the author executed the reasoning behind suicide well. It was a disappointing read.
6) A book or a fictional character you think deserves more love and appreciation and deserve to be put on the nice list?
About all of my best reads are from authors and books that are well known. I'm choosing The Help by Kathryn Stockett. One of those books everyone should experience.
7) Red, Gold and Green. A book cover that has a wonderfully christmasy feel to it.
Realization kicks in that I don't own a book with red, gold and green, which makes that I need to interpretate this question differently.
I'm choosing this book, which is my current netgalley read. The cover looks so cozy and I just realize this has perhaps all the colours on the cover. Those letters look gold to me.
8) A book or series you love so much, you want everyone to find under their christmas tree this year so they can read it and love it too?
The Handmaid's Tale by Margaret Atwood. A lot of it's recognition comes from the tv show, which is an amazing representation of the book. Though to get the full meaning and experience, you should pick up the book and read it.