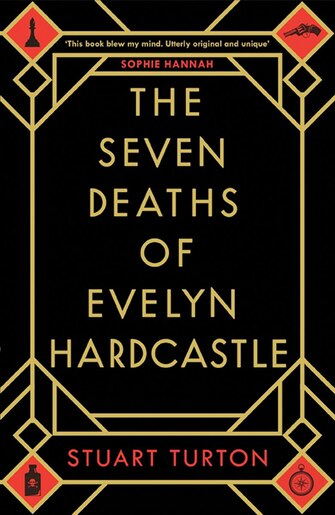 "How lost do you have to be to let the devil lead you home?"
Synopsis: "Gosford Park" meets "Groundhog Day" by way of Agatha Christie – the most inventive story you'll read this year.
Tonight, Evelyn Hardcastle will be killed… again.
It is meant to be a celebration but it ends in tragedy. As fireworks explode overhead, Evelyn Hardcastle, the young and beautiful daughter of the house, is killed.
But Evelyn will not die just once. Until Aiden – one of the guests summoned to Blackheath for the party – can solve her murder, the day will repeat itself, over and over again. Every time ending with the fateful pistol shot.
The only way to break this cycle is to identify the killer. But each time the day begins again, Aiden wakes in the body of a different guest. And someone is determined to prevent him ever escaping Blackheath…

I'm a reader who often goes into a book without knowing what it's about. And that was the same with this book. I heard things about murder and mystery and was eager to read it. The moment I opened the book I was thrown into a chaos of information and events. I had no idea what was going on.
Throughout the story we get to know that there's a person (Aiden) who wakes up in the body of a different guest every time the day begins again, having to solve the murder of Blackheath.
I finished the book with mixed feelings. The book started complicated and I couldn't keep apart the many guests.There were only a couple of moments I understood the story and enjoyed the plot. It was only after the first half/two thirds of the book that the story started to pick up and a couple of twists made me excited again.
Getting further into the book, we get to know a little about Aiden and his life outside Blackheath. I found that so interesting, and believe there could have been a lot more explained about Aiden's background and life in his own body.
I gave this book 3/5 stars.