"The person, be it gentleman or lady, who has not pleasure in a good novel, must be intolerably stupid." – Jane Austen
Halfway through the year already. Here are some June releases we can't wait to read.
City of Girls – Elizabeth Gilbert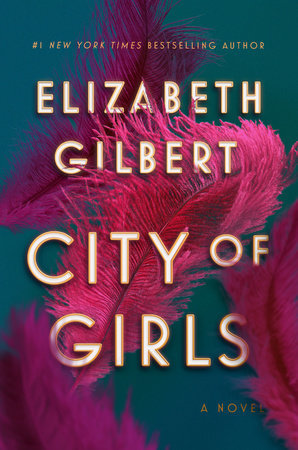 In 1940, nineteen-year-old Vivian Morris has just been kicked out of Vassar College, owing to her lackluster freshman-year performance. Her affluent parents send her to Manhattan to live with her Aunt Peg, who owns a flamboyant, crumbling midtown theater called the Lily Playhouse. There Vivian is introduced to an entire cosmos of unconventional and charismatic characters, from the fun-chasing showgirls to a sexy male actor, a grand-dame actress, a lady-killer writer, and no-nonsense stage manager. But when Vivian makes a personal mistake that results in professional scandal, it turns her new world upside down in ways that it will take her years to fully understand. Ultimately, though, it leads her to a new understanding of the kind of life she craves-and the kind of freedom it takes to pursue it. It will also lead to the love of her life, a love that stands out from all the rest.
Now ninety-five years old and telling her story at last, Vivian recalls how the events of those years altered the course of her life – and the gusto and autonomy with which she approached it. At some point in a woman's life, she just gets tired of being ashamed all the time, she muses. After that, she is free to become whoever she truly is.
2. Recursion – Blake Crouch
Memory makes reality. That's what New York City cop Barry Sutton is learning as he investigates the devastating phenomenon the media has dubbed False Memory Syndrome—a mysterious affliction that drives its victims mad with memories of a life they never lived.
Neuroscientist Helena Smith already understands the power of memory. It's why she's dedicated her life to creating a technology that will let us preserve our most precious moments of our pasts. If she succeeds, anyone will be able to re-experience a first kiss, the birth of a child, the final moment with a dying parent.
As Barry searches for the truth, he comes face-to-face with an opponent more terrifying than any disease—a force that attacks not just our minds but the very fabric of the past. And as its effects begin to unmake the world as we know it, only he and Helena, working together, will stand a chance at defeating it.
But how can they make a stand when reality itself is shifting and crumbling all around them?
3. Wild and Crooked – Leah Thomas
In Samsboro, Kentucky, Kalyn Spence's name is inseparable from the brutal murder her father committed when he was a teenager. Forced to return to town, Kalyn must attend school under a pseudonym . . . or face the lingering anger of Samsboro's citizens, who refuse to forget the crime.
Gus Peake has never had the luxury of redefining himself. A Samsboro native, he's either known as the "disabled kid" because of his cerebral palsy, or as the kid whose dad was murdered. Gus just wants to be known as himself.
When Gus meets Kalyn, her frankness is refreshing, and they form a deep friendship. Until their families' pasts emerge. And when the accepted version of the truth is questioned, Kalyn and Gus are caught in the center of a national uproar. Can they break free from a legacy of inherited lies and chart their own paths forward?
4. Mostly Dead Things – Kristen Arnett
One morning, Jessa-Lynn Morton walks into the family taxidermy shop to find that her father has committed suicide, right there on one of the metal tables. Shocked and grieving, Jessa steps up to manage the failing business, while the rest of the Morton family crumbles. Her mother starts sneaking into the shop to make aggressively lewd art with the taxidermied animals. Her brother Milo withdraws, struggling to function. And Brynn, Milo's wife—and the only person Jessa's ever been in love with—walks out without a word. As Jessa seeks out less-than-legal ways of generating income, her mother's art escalates—picture a figure of her dead husband and a stuffed buffalo in an uncomfortably sexual pose—and the Mortons reach a tipping point. For the first time, Jessa has no choice but to learn who these people truly are, and ultimately how she fits alongside them.
5. Norco '80: The True Story of the Most Spectacular Bank Robbery in American History – Peter Houlahan
Norco '80 tells the story of how five heavily-armed young men—led by an apocalyptic born-again Christian—attempted a bank robbery that turned into one of the most violent criminal events in U.S. history, forever changing the face of American law enforcement. Part action thriller and part courtroom drama, Norco '80 transports the reader back to the Southern California of the 1970s, an era of predatory evangelical gurus, doomsday predictions, megachurches, and soaring crime rates, with the threat of nuclear obliteration looming over it all.
A group of landscapers transforms into a murderous gang of bank robbers armed to the teeth with military-grade weapons. Their desperate getaway turned the surrounding towns into war zones. When it was over, three were dead and close to twenty wounded; a police helicopter was forced down from the sky, and thirty-two police vehicles were destroyed by thousands of rounds of ammo. The resulting trials shook the community to the core, raising many issues that continue to plague society today: from racism and the epidemic of post-traumatic stress disorder within law enforcement to religious extremism and the militarization of local police forces.