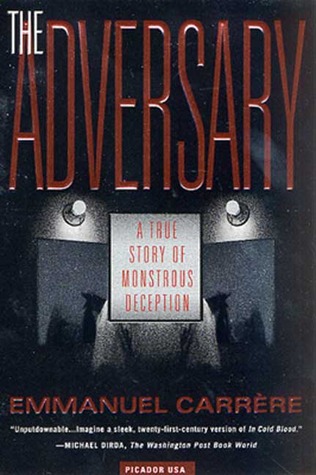 A thrilling true story of deception.
This book was provided by Netgalley and Random House UK in exchange for an honest review.
Synopsis: Acclaimed master of psychological suspense, Emmanuel Carrère, whose fiction John Updike described as "stunning" (The New Yorker) explores the double life of a respectable doctor, eighteen years of lies, five murders, and the extremes to which ordinary people can go.
First I think that this true story is incredible. I can't understand how someone can live such a deceptive life and get away with everything for such a long time. It must take some real comunicative skills to convince your own family and everyone around you that you work a job you don't work, have degrees you don't have, earn money you don't earn. It was so interesting to read about the ways in which Jean-Claude Romand managed to live the lies of his life. An interesting way to see how the lies started was to read the whole story of Jean-Claude. I gave a lot more dept to the massacre and showed the mess Jean-Claude slowly put himself in. It shows how skillfull he really was in depection from a young age.
The ending of these massive lies led to Jean-Claude Romand murdering his wife, children, and his parents. The thought that kept popping in my head was: why didn't he end his own life? Why kill everyone because of the mess you can't get out of, but not kill yourself? That would seem a logic decision to me, since he is the one that can't talk himself out of it anymore and not his family. I also amazes me that all the lies came to the surface after he murdered his family, and nothing came out before that.
The writer Emmanuel Carrère decided to write a book about this case and started having contact with Romand. The way Carrère talked about Romand showed that Carrère comes over as a very nice, charming, smart person. It sounded to me that Carrère accepted his time in prison and made the best of it, even though his family and dog was still a trigger. I think Carrère did a really good job in talking about Jean-Claude Romand and his massive deceptive life. He showed Romands reactions in court in a great way, managed to tell his whole story in a nice chronological way, and made an impressive connection with the moments Romand ended the lifes of his family and what he himself was doing at the time.
How can you live such a big lie?
I gave this book 4/5 stars. Shocking, interesting, unbelievable.